PSOCA
Secure Card Payment to remote Merchants
via Internet - Mobile Telephone - iTV
PSOCA is the authentication method of choice
to perform easy and secure
card transactions to remote merchants
using Internet browsers or mobile devices / mobile phones.
Credit cards and debit cards have originally been introduced into the market to support proximity payments: payments, where the cardholder and the merchant physically meet at the point of purchase. Authenticating details can be exchanged in the form of a signature or a PIN.
Payment to remote merchants, however, where the cardholder and the merchant do not physically meet, have only recently evolved, mainly with the advent of the Internet. Since then, these payments to remote merchants are laden with irregularities, disputes and fraud. Here is a selection of articles about Internet card payment fraud >>
PSOCA is an invention of how card-based payments to remote merchants, usually reached via the Internet, by telephone or via interactive TV, can be performed in a secure way. Next to its security features, PSOCA cards are also very easy to use. Hence, the PSOCA security mechanism constitues a crucial piece of intellectual property, and it is therefore protected by patent law, or in some countries in the process of obtaining patent protection, respectively.
Internet media companies, mobile telephone companies, smart-phone manufacturers, interactive TV companies and card issuing banks or their payment service providers may wish to obtain a licence for the PSOCA security mechanism for their business. A licencee will enjoy a strategic competitive advantage. PSOCA virtual cards are operated via an Internet browser, a mobile device or a mobile phone.

Figure: PSOCA card displayed in an Internet browser. The card is very easy to use, no new tricks need to be learned by the cardholder.




Figure:

PSOCA card displayed on a mobile phone. The card is normally deactivated and can only be activated by the cardholder.
The invention PSOCA is a transaction authorisation system to be deployed at card issuing banks, possibly in conjunction with a smart-phone manufacturer or mobile operator, in order to secure card transactions with any Internet, MOTO or iTV merchant worldwide. PSOCA stands for Private and Secure Online Card Account. PSOCA is strategic, due to the ubiquity of consumer-to-merchant or business-to-merchant transactions that make use of the existing card-based infrastructure. After installation at the card issuing bank, PSOCA is instantly applicable to any card transaction with any remote merchant worldwide.
The quest for an ideal way to securitise such card transactions has been going on for some time. Shortly after the PSOCA invention, MasterCard International and Visa International have announced their proprietary methods too: MasterCard SPA/UCAF and Visa 3D Secure. Both MasterCard's and Visa's security mechanisms have their downsides, though. In addition to the card issuer's systems, both mechanisms also require parallel conversion of the eMerchants' systems, resulting in the well-known chicken-and-egg-problem. Furthermore, the latter mechanisms are rather difficult to explain to consumers, resulting in resistance to adoption. Visa 3D Secure raises major privacy protection concerns and legal issues, because a central database is an integral part of the security system.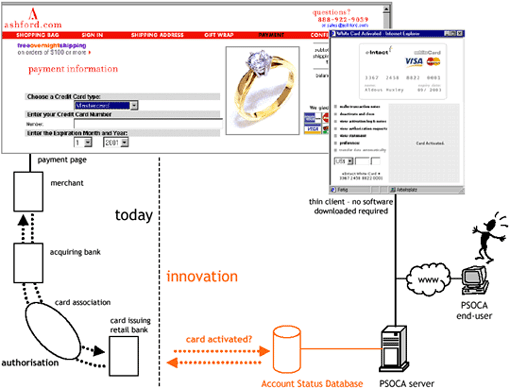 Benefits: A significant advantage of PSOCA is that it is solely operated by the issuing bank, and not by the merchant. This obviates having to convert each and every merchant worldwide. Applying the PSOCA security mechanism results in the following unique value proposition:
PSOCA Payment - Value Proposition

1. PSOCA does not require any merchant buy-in or system conversion and therefore instantly allows secure transactions with any remote merchant, worldwide. After installation of the system, it therefore allows for a rapid market roll-out.

2. The PSOCA security mechanism is easy to understand for the consumer and can easily be marketed to consumers. The principle can be communicated in a 10 seconds radio ad: "You switch your card on, when you do a payment, and after the transaction the card is automatically switched off again".

3. The Bank, Smart-phone Manufacturer or Mobile Operator can apply the plain PSOCA User Interface, which is extremely easy to use. This can be demonstrated with the PSOCA Click Demo or a live demonstration of the PSOCA Prototype.

4. The invention allows Smart-phone Manufacturers or Mobile Operators an easy entry into the field of payment, and toll-taking on all eCommerce and phone-based transactions.

5. PSOCA-virtual cards can be deployed to the consumer via Internet, Mobile Telephone and iTV. With this, PSOCA covers all predominant channels for remote purchases.

6. In a debit card scenario, PSOCA is the solution to introducing the PIN to online debit card transactions. This is possible because only the issuing bank operates PSOCA, and hence the PIN never leaves the issuing bank's domain.
At the bank, the PSOCA mechanism can either be deployed in parallel or as an alternative to the MasterCard SPA/UCAF, Visa 3D Secure, MasterCard SecureCode or the Verified by Visa security mechanism. Contact us.
Further information. Here you can find further information about the secure card-based system for payments to remote merchants PSOCA:
Further information on PSOCA >>
Further information on PSOCA Mobile >>
Press articles and TV & radio broadcasts about alledged PSOCA patent infringement by Standard Bank and MTN >>
Here you find a selection of articles on the topic of Internet payment fraud and on the topic of secure Internet payment in general:
Articles on secure Internet payment >>
Articles on mobile payment >>
Articles on online payment fraud >>
PSOCA Intern
For Investors and Partners
- password required -

PSOCA
3MFuture Intranet
- password required -
The patent has been granted in the Republic of South Africa (2002/2337)
The patent has been granted by the US Patent Office USPTO (7,685,037)
(Application number was 10/473,018)
International patent application number is PCT/IB02/00881
The patent is pending at the European Patent Office EPO 02713105.1-2221
The patent has been published by EPO EP1381987
The patent has been published by USPTO US2004/0148259